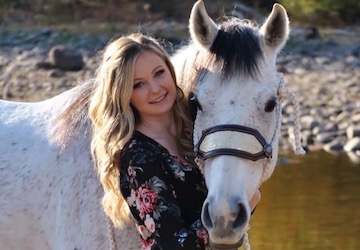 Cheyenne Barnett
No Bull VIP Concierge – AZ
Hi, my name is Cheyenne Barnett, and I work with the Earnhardt family in the VIP Sales department. An Arizona native, I enjoy the outdoors, photography, and our agricultural community. My greatest treasures are an American Quarter Horse gelding named "Olaf" and a rescue dog named Jewel. Riding horses and competing in barrel racing are among my favorite pastimes. When I'm not riding horses, I work directly with the Earnhardt executive management and sales departments at each of our dealerships to give our VIP customers a wonderful and seamless experience catered to them each and every time.
In 2016, I joined the Earnhardt Auto Centers family as they took ownership at the brand new Earnhardt Chevrolet store. There I learned about the critical functions of a dealership. My first duties were in the clerical and scheduling department. Experienced Earnhardt sales staff took me under their wing. They taught me not only how to sell a vehicle, but also how to do it the right way. They emphasized being courteous and honest. To show customers respect, they said, you must let them set the pace. That's how you create a no-pressure environment. Now in full-time sales, I love to provide the ideal economical daily driver car for first-time buyers, luxury SUVs for growing and established families, and everything else in-between!
Of course, I have a spot in my heart for trailer-hauling trucks. This grows out of my passion for horses as well as their riders, owners and fans. As a horse owner myself, I know it is critical to have the correct vehicle and towing setup. We must be able to haul our wonderful horses safely from one location to the next. I frequently display our pickups at barrel races, rodeos and other horse events throughout the Phoenix area. While showing off our trucks, I enjoy answering questions from some of my most loyal customers – the horse community.
World-class customer service, efficiency and courtesy are important to me. My day-to-day functions revolve around that, and I believe in great service before, during and also after the sale. Feel free to drop me a line any time. I'll be happy to show you why Earnhardt's has been #1 in the business since 1951, and that ain't no bull!