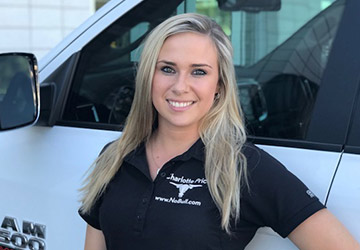 Charlotte Price
No Bull VIP Concierge – AZ
Hello, my name is Charlotte Price, and I am the Earnhardt's own Cowgirl Concierge! While I love to ride horses in my free time, I also help oversee the entire VIP program. I work directly with the Earnhardt executive management and sales departments to ensure our VIP members receive incredible customer service, an easy, no-hassle buying experience and white-glove service!
I have been a part of the Earnhardt family since 2014, gaining valuable experience in the business office, finance and sales department. In 2015, I also took on the role of Gilbert Days Rodeo Queen. During that time, I enjoyed actively participating in meetings, obtaining sponsors, visiting rodeos, and overall production of my 'hometown' rodeo, the Gilbert Days Rodeo. To this day, I am still a board member for the Gilbert Days Rodeo and also a committee member of the Parada del Sol Rodeo in Scottsdale, Arizona. I pride myself on helping my rodeo families and friends produce successful rodeos each year.
You can quite often see me stationed at different rodeos, barrel races and team roping events throughout the state, as a majority of my job revolves around being a point of contact and making new connections within the horse community! I know first-hand that the rodeo and horse community is a very loyal group of people who appreciate having someone to they can relate to with when it comes to making a vehicle purchase to match their lifestyle.
I wholeheartedly believe in the importance of phenomenal customer service all the way around… Not just before the sale, but during, and well after the sale has been completed. My job revolves around making people happy and giving them the incredible experience they deserve to have! Give me a call anytime and let me show you why Earnhardt's has been #1 in the business since 1951, and that ain't no bull.